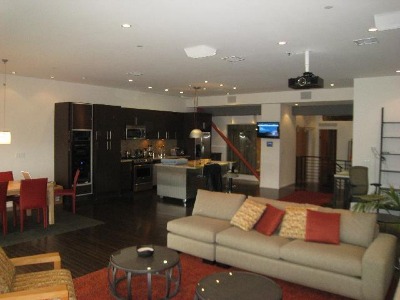 The Broadway-Hollywood Lofts are high-end exclusive living lofts in the heart of Hollywood. They were designed to be long-term rentals for creative professionals wanting a deluxe temporary residence while working on Studio projects.

The Lofts are equipped with Control4 automation systems that operate audio and video equipment, lighting control, window motorization, thermostats, and security.

Each Loft is equipped with a high-definition screening facility, including motorized screen, and music in every room. Additional LCD 1080p television sets can operate independently, or may be synchronized with the main program.

The systems were designed to be simple and intuitive to operate, yet flexible enough to accommodate a variety of residents' needs. Although color touchscreens are provided for in-depth control, the systems are able to be operated with simple wall-mounted keypads, and hand-held remote controls.

Lighting is designed to provide a variety of moods, and LED light sources were used where practical.

At the entry, a single button can turn everything off- lights, music, video, HVAC, etc., and another button turns on lighting to an appropriate level for the time of day, and can turn on selected music or video programming as well.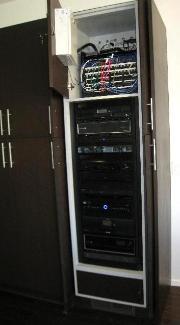 All of the main equipment was installed in a custom-designed cabinet with a slide-out rack for service access, and a separate locked compartment above that contains the data networking and WiFi equipment, cable terminations, and security panel. The cabinet has folding pocket doors that hide the technology, yet allow easy access for adding media.

The Master Bedroom has a separate AV system with a Blu-ray player, DirecTV HD-DVR, and surround receiver